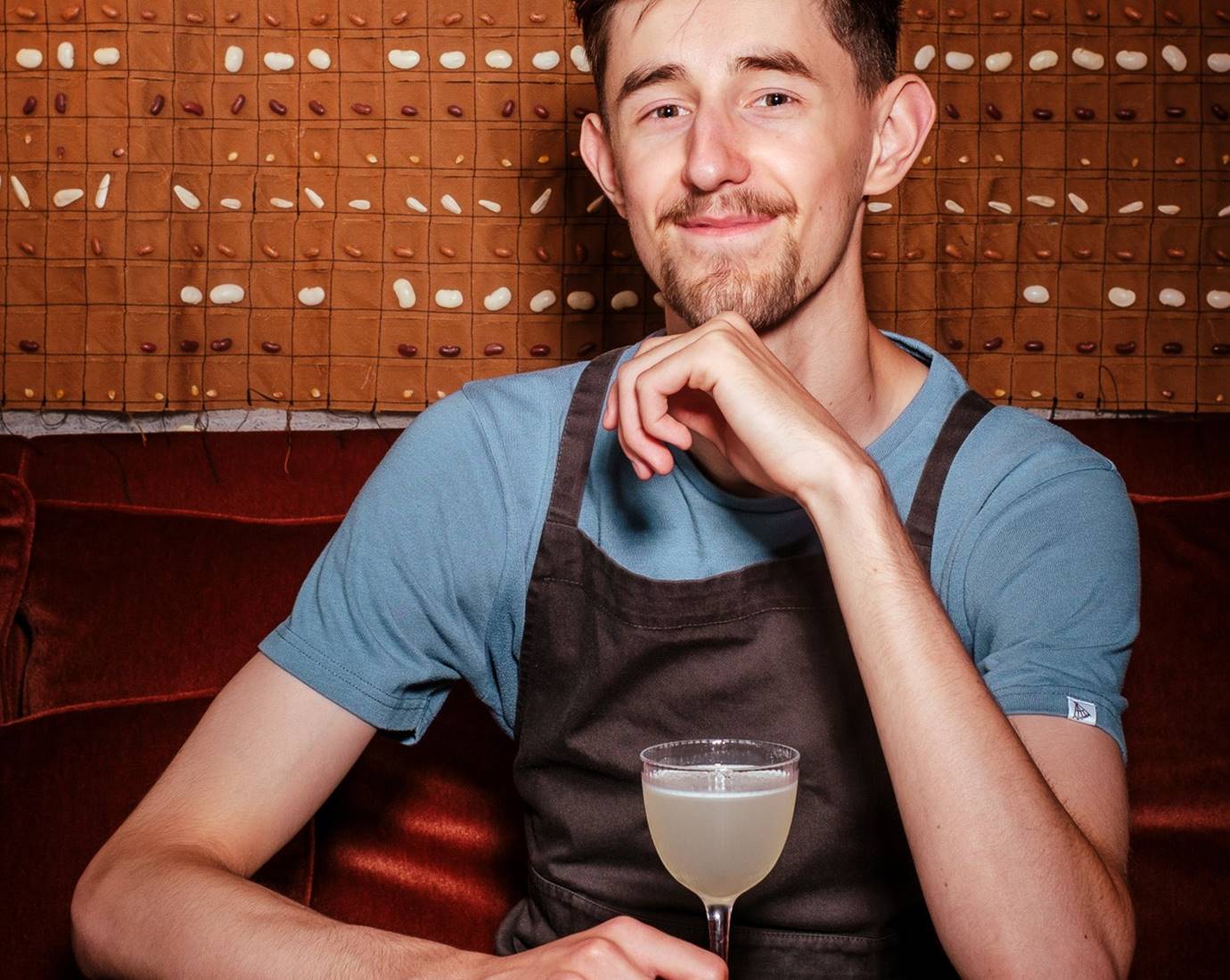 Meet Lachlan Williams
Bartender,
One Hundred Shoreditch 
Tell us about yourself and why you wanted to join the team at One Hundred Shoreditch?
I'm Lachlan. While I was on my own journey of pursuing hospitality I realised bartending was something I had to get myself involved in, due to the loving environment and the experiences you take away. And by luck I landed in Seed Library, which is the best outcome I could have asked for.
Tell us a little about your role at One Hundred Shoreditch and what do you most enjoy about it?
So I work in the underground bar called Seed Library in the hotel, and I play roles in bar backing and service on the floor. When I'm active in either one of these roles, I have the same intentions, to make sure that everyone is looked after and has what they need to ensure they have an enjoyable night, this includes the guests and my colleagues. Giving guests a good time and making them feel at home is something I find really fulfilling, because it really is a home of sorts for me and my colleagues, we have a real family dynamic, and I love passing that energy on to the people who come down.
How has working at One Hundred Shoreditch helped you to develop?
Working in Seed Library can be challenging at times due to the tempo you have to work at and the amount of attention to detail you need to pay while also showing hospitality. But the love I have for the people and the space gives me all the motivation I need to be able to push myself to the highest level while working. During my time here I've learnt a lot about how to approach working in hospitality, but mainly I've learnt that determination and belief in yourself will help you in situations under pressure.
What is your biggest achievement while at One Hundred Shoreditch?
I started as a Barback and quickly got promoted to Bartender. The guidance and training I received from day one made it sure that I was ready for the new role. Also the amount of love, hard work and good energy all of us put into everything that goes on in Seed Library, and coming back every day with a smile is definitely an achievement enough, and to that I owe that to all of my colleagues.
What have you learned about yourself since starting at One Hundred Shoreditch?
So far I've learnt a lot of things while working at One Hundred Shoreditch, definitely a lot of practical information like how to make a drink in the most perfect and optimum way, all of this information being unique to the place and comes from a very high thought process in terms of how we operate and approach things. But what comes to mind first is how I've learned that working with people you love and a space you care for will push you to be your best self and motivate you to reach the goals you seek.
What do you like to do when you're not at work?
I'd have to say I do all sorts of things outside of work. Thinking about it, I only focus on doing things I find fulfilling. I love DJing and making music, me and my friends also do a lot of filmmaking, usually accompanying music we've made. Apart from that I love just going out with friends and family, usually going to events and nights out with a lot of music. Also since starting at Seed Library I've started going around and trying different drink spots and really learning about the industry, which I've been focused on recently. Overall not too much other than just living life really.
What does the future hold for you?
At the moment I'm really focused on pursuing bartending here at Seed Library, I'm currently being trained up for this role and am putting in all my effort in order to carry it through. But in the meantime I'm just taking it one day at a time and bringing the best energy I can into the workplace. Overall I'm trying to make steady progress with learning and being in the action on the bar.
What piece of advice would you give to somebody joining One Hundred Shoreditch?
I would definitely say go for it. It's the type of place that really encourages you to be yourself and go for what you want, I definitely feel like my best interests are heard and that I can be myself freely. However, be prepared to bring everything you've got when you walk through the doors!